An offer he can't understand
Posted on July 30, 2020 at 1:34 am by Daniel Kelly
Adam Steele's intro line here is the first of several references to the Broadway show "Rock of Ages" in relation with Riley. In the play, protagonist Drew is lured away from the bar and love and all that by a sleazy music producer from "Two Star Entertainment". Adam Steele is even sleazier, his company is only one-star. Also he's a fat bald Hitler, just so you know he's bad news. Lot of subtle characterization in Legend of the Hare, really rewards you for paying attention to the little details. I do like his tiny fedora, though. I also like the punchline here, one of the first in the re-reads to actually get a laugh out of me. Jill and her band are just intensely unobservant people. Also, one actual bit of subtle characterization in the way that Jill and Starflower go from looking at Hitler to looking at Riley in the last panel. Despite his obvious unfitness to the role, he is the leader and Jill is turning to him to follow his lead. And I'd like to take credit for that subtle bit of storytelling, but my description for this panel was, in it's entirety:
Panel 7

Adam is excited, Riley realizes what he's getting at.

Adam: I wanna hire you!
Riley: Oh!
Man, I gave Carlos nothing to work with in these old LotH scripts, did I? Did I even write this comic? Even now, I'm no Alan Moore, but I try to at least have a paragraph, like in this script from an upcoming Saffron page: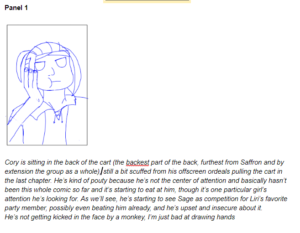 Tags