The perfect alibi
Posted on December 20, 2019 at 12:05 am by Daniel Kelly
This was originally supposed to be a birthday, but then I thought of the phrase "no holds barred mitzvah" and changed it last second. do like that Jill and Riley both don't actually know what a bar mitzvah is. Given that the next few pages portray the event as taking place in an arena (?) around a wrestling ring (??) and one of the people in attendance is a music industry scout (?!), it's also possible that I didn't know what a Bar Mitzvah was, or at the very least didn't bother to change any of the later pages to account for this change. This is a really stupid plot point! And it also means that the band is tempted by money at a Jewish event, which is one of those things I probably should have stopped to consider the implications of, but I clearly didn't consider the implications of anything I was doing on any level. In the aborted LotH Version 2, this whole scene was going to be an actual birthday party, and Riley would sing a song that would be way inappropriate for kids and the family would kick them out, which Riley would blame on Jill before Peggy showed up an arrested them all. It would be at the police station where the rabbits first appeared, and V2 was getting very far from V1 before I gave up on it.
There's something very Scott Pilgrim vs the World-y in those first three panels, especially Jill's band being a retro gaming reference. Who came up with that name, anyway? Also, wow, I just told Carlos to draw a generic indie wrestling poster and gave him a sample of one, but I totally passed on a chance to put a joke on the poster. Missed opportunity, past me! Also, using "Goldstein" as a generic Jewish name, bluh.  That's lazy, it should've been a funnier name. If it'd been, like, "Rick 'The Rack' Ruckus presents: His son's no-holds-barred mitzvah" then there's a little character in it, the idea that maybe it's the dad who likes wrestling and not the kid, which gives me an opportunity to have a joke later about the son being bored and also kind of helps explain why there's no actual Bar Mitzvahing going on. You can tell how much I'm feeling a page by how much effort I'm putting into finding these spaces for a joke. In a perfect ideal word, a writer should spend as much time on a page as the artist, going over every line and background detail and trying to find ways to get as much mileage as possible out of every panel and taking every chance for a clever joke. Obviously, this doesn't usually happen in practice. But it should! It's very easy to pop out something passable in ten minutes as a writer in a way an artist can't, but you should hold yourself to a higher standard and even now I don't do that as much as I should.
Panel 3 looks like a generic alley, but I actually took a photo of an alley in Boston I liked and had Carlos use it as a reference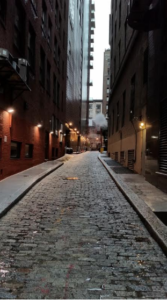 I'm not quite sure why I found this image so striking, but it adds a little to the sense of place that this alley has a brick road instead of a paved street, and is one of the very few visual clues that this comic takes place in Boston and not Generic City, so it was worth the time to photograph. Also, hey, that's Eoin in a trenchcoat reading a newpaper in the background of paper three there. The original opening to Legend of the Hare would have had Trenchcoat Eoin (back when he was called Teporingo) and Mary Farrier at Doink Burger scoping Jill out as a potential rabbit champion. This never got past the first draft stage and mostly revolved around Mary being a hyper child and not focusing. Interestingly, the script I have for that opening establishes Legend of the Hare as being set in Oregon. I wonder why I set it there originally, given that I've never been. It might have just been a reference to Gravity Falls?
Anyway, this is the first appearance of Riley, and note that even this early he's making fun of Jill behind her back. Old man Starflower seems to just accept what Jill is saying as normal, which looks like a joke but is also foreshadowing, since Starflower knows a bit more than was ever shown to the audience. Sadly, it never comes up in the comic because everything's a mess, but Mary Farrier the horse champion is Starflower's daughter, and it was through him that the rabbits learned of Jill. It's all connected, but offscreen because I wasn't doing anything properly.
The Lore Post for this page will be of grave importance to a few people: It's the first appearance of Helen Alvarez, the Rooster Champion and surprisingly popular minor character! Helen doesn't actually appear on-panel for like 40 pages, and by then she's very clearly sick of all the "cock" jokes, but she seems to be in better humor about it here:
Dear Diary,

I don't know if anyone's going to read this, but if you're reading this now, hi.

So today was odd. I skipped school and then a bunch of Roosters flew me off to Cock-Narnia. Little bit unexpected, that twist. They gave me the whole "Chosen One" spiel I've seen in a million fantasy novels, though they didn't seem to know who actually chose me or why. They offered to let me go home, but I told them nah. Even a crappy Harry Potter LARP thing run by birds is better than Mom and Brad. And, honestly, I wasn't going to make a better career choice than being the "Lady of Cocks", so I might as well get on the Cock while I can. Got the tattoo and everything.
I'm sure that'll stop being funny any second now, but I've only been here a few hours so I'm going to ride the cock train just a bit more.

The cocks – there it is, this is old -the roosters are not very smart. Which I guess isn't surprising, because they're birds? But they can talk, so you'd think they'd be smarter than normal birds. And maybe they are, but they ain't shown signs of it yet.

I tried to get some details on what my Cock Destiny (okay, one more) was, but no one was able to answer me. Kind of defeats the point of having a prophesied destiny if it's a mystery, doesn't it? If I wanted vague promises of future greatness, I'd see the guidance counselor again.

Isn't that life, though? In that….um…..you never know what you're gonna get? Or something? I dunno. I really don't know anything. Supposedly once I sign up I get all kinds of magical girl superpowers, but I don't feel very super right now. I mostly just wanna lie down. Such hero. Very amaze.

Actually, lying down sounds like a great idea right now. I need to stress over all my decisions today. I'm gonna go do that.

How was your day?
Holy hell, you can tell this lore post is old, there's a doge reference.

Tags